Oatmeal and Cholesterol
If you just can't stay away from all of those incredible edible eggs, but are worried about too much cholesterol, replace that slice of toast with a bowl of oatmeal.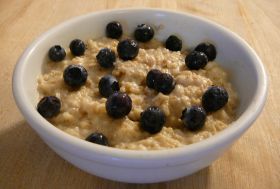 The claim that oatmeal lowers cholesterol is more than just marketing hype. Oats contain water soluble fiber that combines with bile. When the fiber and bile combine, the bile is eliminated from the body instead of being re-absorbed by the large intestine at the end of digestion. How does this lower cholesterol?
Bile is 70% cholesterol. When the bile isn't recycled, it must be replaced. Cholesterol from the bloodstream is used by the liver to make new bile, which is then stored in the gallbladder. This lowers cholesterol levels in the blood.
Bile is used as an aid to digestion. Water and oil won't mix without help, so the gallbladder releases bile, which works as an emulsifier.
Food Preservation
People aren't the only creatures on earth that like to eat. Every living thing, no matter how small, needs to eat in order to survive. As soon as the first organisms found the first biological molecules, the struggle for their possession began. That's why living things eat each other. It's a competition for organic molecules.
That's why you can't leave most food unprotected without it spoiling. The micro-organisms eat it, metabolyzing the biological molecules into waste. Food preservation is mostly about keeping other organisms from eating the food, but also about preventing chemical reactions like oxidation and freezer burn from damaging the chemical structure of our foods. There are several ways to prevent both from happening, at least for a while.
---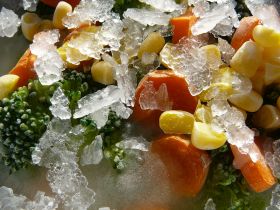 Freeze It
Life needs liquid water in which to perform it's biological reactions. When water freezes, all biological activity ceases, and the food is preserved. Water expands when it freezes, which sometimes causes the cell membranes in food to burst. This is why some foods lose their texture when they are thawed out.
Food left in the freezer for too long can experience freezer burn, which is caused by sublimation. This is a process where water can go from a solid to a gas without passing through a liquid state. It's dehydration that occurs in the freezer.
---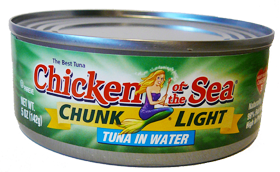 Canning and Cooking
(In That Order)
The other end of the temperature scale also provides an effective way to preserve food, if you combine it with isolation.
Heat is the motion of atoms and molecules. If the temperature in a food rises too high, biological processes in the cell can't continue due to all of the thermal energy, and the cell dies. While cooking will kill all of the life in a food, it's not enough for food preservation over time. New microorganisms will arrive on your food as it cools, and re-colonize it.
To preserve food, you need to isolate it first, then heat it. This is the principle behind canning. Tuna fish will spoil in less than a day if left exposed. Seal it in a can and then apply heat. The tuna will then last for years.
---
Dehydration and Salt
Salt is an essential nutrient, but can be fatal in large amounts. Salt draws water towards it, which can cause dehydration. This is why salty foods make us thirsty. Drinking ocean water, for example, can kill you because the salt concentration in it is so high that it causes dehydration. Our bodies use more water to flush out the excess salt than we get from drinking the ocean's water.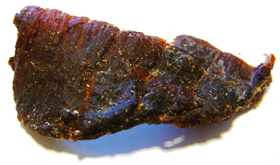 If we combine dehydration of food with the addition of salt, we can preserve some foods by making them inhospitable to micro-organisms. That's the principle behind foods like beef jerky. Germs can't reproduce on foods that contain lots of salt and little water.
---
Pickling

Pickling takes advantage of low PH levels to preserve food. Biological processes within cells function best when PH levels are at or near 7.0. If you change the PH level too far in either direction, the microorganisms can't survive. Pickling preserves food by placing it in vinegar, which has a PH level near 2.4.
---
Oxygen Deprivation
Sometimes food spoils by simple chemical reactions, without any microorganisms being involved at all. Freezer burn is one way this happens, and food going rancid is another.
Freezer burn happens when frozen food is exposed to air. Ice evaporates from food in a process called sublimation. It doesn't have to melt into water first. This dehydrates the food, which lowers it's quality. Removing air pockets from your frozen containers will slow down this process.
Rancidity takes place when oxygen breaks apart the unsaturated (double) bonds that exist between some carbon atoms in the fatty acid chains of lipid molecules. This separates small foul-tasting fragments (aldehydes and ketones) from the fatty acid chains.
To prevent this from taking place, minimize the exposure of those foods that are high in unsaturated fats (like olive oil) to oxygen.