Nutrition in the Garden
Most nutrition is created in the plant kingdom. Plants use the power of the sun to combine atoms and small molecules into the larger molecules that both plants and animals need to survive. Although animals (including us) are able to create some nutritional molecules on our own, we are ultimately dependent on the plants for many of our nutritional needs. Gardening is a great way to participate in the creation of these nutrients, since it shows us the other half of the cycle we are all a part of.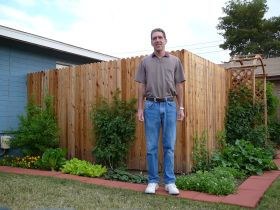 I've been a gardener for several years, and have been interested in nutrition even longer. When we think of the nutritional value of food, we usually think of how it nourishes our bodies. We forget that plants create nutrients for their own survival, and aren't concerned with our nutritional needs. If they provide us with fruit, they aren't being altruistic. They are using us (and other animals) as a transportation vehicle for their seeds. The fruit's sweetness and bright color is there just to attract us. On the other hand, Jalapeno pepper and poison ivy plants use chemicals to keep us away. Fortunately, it's not an "us or them" scenario. We are all part of the same biological system, and depend upon each other for survival. What's good for the plants is ultimately what's good for us. That's why it's important to see things from both the human and plant perspectives.
While the Plate section of this website is concerned with nutrition from the human perspective, this "Garden" section looks at things from the plant's point of view. Gardening contributes to this way of looking at things because the gardener must consider what is best for the plant in order to harvest the nutritional bounty that they offer. The articles and pictures in this section combine what I've learned about how plants grow, and why they do what they do, in an effort to see things from the plants perspective.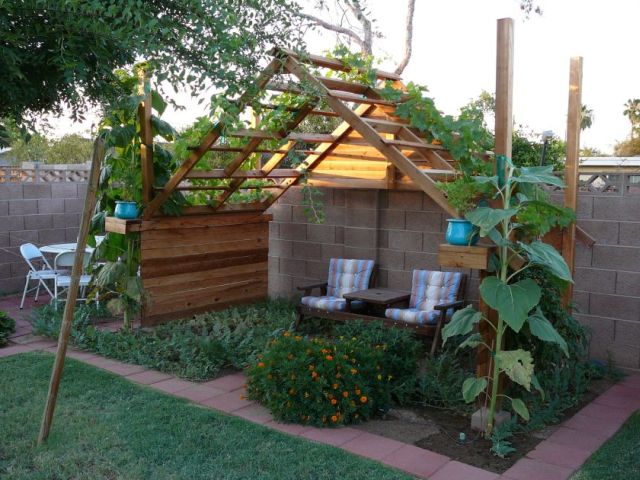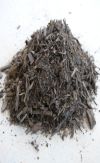 Plants Can't Chew Their Food,
So Give Them Lots of Compost!
The roots of a plant can't absorb a fallen leaf any more than the lining of our intestines can absorb a chunk of lettuce. In both cases, whole foods must be broken down into small nutrients before they can be absorbed. Animals have an advantage here, because our digestive system breaks food down into it's nutritional components before it reaches the intestine. While it may be un-appetizing to think about, your mouth and stomach function as a high-speed compost bin. They break large molecules into smaller ones that can be absorbed into the bloodstream. Most plants have no mouth or stomach, so they are dependent on other organisms to break their food down for them. Animals break food down into nutrient-rich manure, and smaller organisms (bacteria and insects) break it down into a nutrient-rich substance called humus. You can think of composting as a plant's way of outsourcing digestion.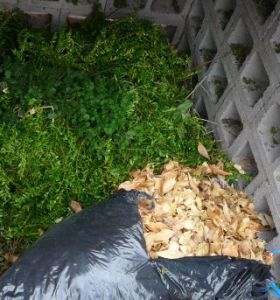 It's important to mix greens and browns together so that the insects and micro-organisms can have a balanced diet of both carbon (in the browns) and nitrogen (in the greens). If done right, the greens and browns (shown above) will become the nutrient-rich black compost shown below.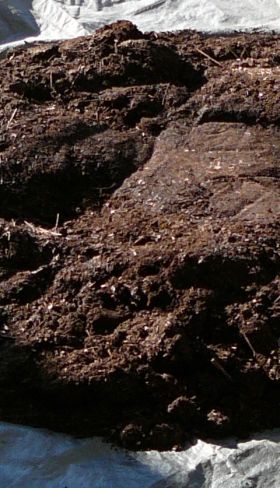 Composting is necessary because a plant can't absorb the larger molecules (like protein and cellulose) that it needs in order to make a branch or a leaf. Instead, it must absorb it's elements in smaller molecules like water (H2O), ammonium ions (NH4+), or carbon dioxide (CO2), and combine them into the larger molecules after they are inside the plant. A leaf is made from the larger molecules, so something else (bacteria, insect, or animal) must break it back down into the smaller nutrients before the plant can use it.
The breakdown of organic (plant and animal) material takes place automatically in nature. The time it takes for the breakdown to occur varies greatly, depending on many conditions (temperature, moisture, air, and any available micro-organisms). When we talk about composting, we generally mean a human-directed effort to control these conditions in order to speed up the process so that we get lots of humus in a relatively small amount of time.
Humus is the end product of the composting process. You start with a pile of leaves and other organic material, with nutrients locked up in large molecules. You end up with humus, a nutrient-rich substance where the large molecules have been broken down (consumed) by insects and bacteria, into their smaller nutrient-available components. While we refer to the end product as compost, it's actually called humus. Compost refers to the process by which organic matter is converted to humus.
Organic material is a combination of many kinds of large molecules (proteins, complex carbohydrates, ect). Each kind comes in many forms, and provides food for different organisms. Cellulose, for example, is a form of carbohydrate that plants create for use as a structural component (for building branches and supporting leaf structure). Since it's made to be tough, very few organisms (all of them bacteria) are able to break it down. Termites can eat wood because they have bacteria in their stomach that can break down the cellulose for them. Humans don't have these kinds of bacteria, so we can't break down cellulose. We refer to small amounts of cellulose as "fiber", and pass it through our bodies undigested. Large amounts of cellulose (like tree branches) are best left uneaten. The other complex carbohydrates and the protein molecules are easily broken down by a wide range of insects and micro-organisms.
Insects and micro-organisms are living creatures, and require a suitable environment if they are going to survive while they convert leaves into humus. All organisms require water, so the compost pile must be kept moist. Most (but not all) organisms require oxygen, so the compost pile shouldn't be packed too tight, or soaked with too much water. Since compost piles tend to compact under their own weight over time, you should turn it over periodically to re-introduce air space into the pile (which is also a good time to add moisture). If it becomes packed so tightly (or deprived of oxygen by placing it in a sealed container) that the air can't get inside it, a type of bacteria (called "anerobic") that doesn't need oxygen will take over the composting process. They'll break down the organic material for you, but you won't like the results. Instead of humus, you'll end up with foul-smelling slime. So make sure your compost pile has access to air.
Whenever possible, it's best to make your own compost. That's the only way to know what it contains. This isn't always possible, though, because making compost takes time and requires a large supply of raw materials.
When I need more than I can make at home, I buy from 3rd parties. I've had mixed results when doing this, because some producers don't add sufficient amounts of high-nitrogen substances to the material they compost. It's still valuable because it adds much needed structure to the soil. But it can't grow plants all by itself. You'll need to add a chemical fertilizer or a high-nitrogen organic substance like manure, bloodmeal or worm castings.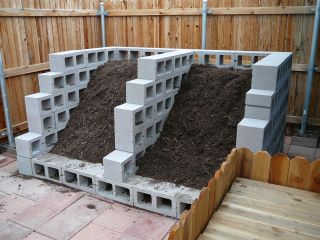 A truckload of compost I purchased.
In addition to air and water, temperature is important. Micro-organisms generate heat as they consume organic material, so compost bins are able to stay warm even when it's cold (but not freezing) outside. Since large piles retain heat better than small piles, a compost pile should be a minimum of three feet (high, wide, and deep) in order to maintain it's internal heat. Bigger is better, as long as the pile doesn't become so heavy as to compact itself to the point where the air is squeezed out (you can add small branches to help support larger piles). In piles that really get going, things can get so hot that some of the bacteria are killed. This isn't a problem, since other bacteria like the high temperatures, and take over where the others left off.
Just as some food is more nutritious than others, some compost contains more nutrients than others. Plants need carbon, which they get from both humus and the air (carbon dioxide), but they also need nitrogen and other nutrients that they can only get from the soil. If your compost (humus) was made from ground up tree trunks, and nothing else, it will contain lots of carbon, but not much nitrogen, and plants won't grow very well in it. If the compost was made with lots of green leaves (which contain nitrogen), or something like chicken manure (which is very high in nitrogen) was added, then you have compost that has more nitrogen (and probably more of the other nutrients), and is more nutritious for the plant. So it's important to understand your "greens and browns" when making compost.
All of the nutritional components that make up plants can ultimately be broken down into just sixteen chemical elements. I've listed them on the Elements page, where you can access detailed information on their structure and how they contribute to nutrition for both plants and animals. There are also many informative resources on the internet which describe the complex processes that take place inside a compost pile, and how to make them happen. One of the best online resources I've found is called Organic Gardener's Composting. Whether you make your own compost, or buy it from someone else, it's important to know how it's made and what it does for your garden, so check out these resources.